Sketch Blocks (aka Blocks) where added in 2017 but it took me a year before I figured it out.
Here is the Video covering them.
Found in Sketch Toll Bar: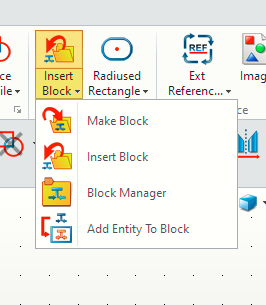 So how I use Blocks:
For Logos - I have the logo saved as a Block in my Logo_ART file.
From any file I can choose Insert Bloc and browse to the ART file and select the block. I have several different logos in the same file.
Place the block - (you get to set Insertion point when creating the block.)
Check the options when inserting - do you want it linked? e.g an changes you make will be made to the block itself. Usually I choose No.
Explode the Block an scale move to suit etc.
A Block shows as a subpart in a Sketch - you will become familiar as you use them. It will also be slightly greyed when you open the sketch - all its dimensions and constraints are contained within the closed Block.
Which all means you can constraint Blocks to geometry or other blocks as if they where a model (only on 2D off course) and make kinematic models to test functional relationships.
Once you are satisfied with the Block dimensions etc. you can go ahead and make the part in a different file by inserting the Block and using as a normal Sketch.
In this case, if you keep the association, any changes you make to the Block will occur in both the function dynamic sketch and the part.
So there are lots of uses - what do you do with Blocks?
Cheers
Paul